---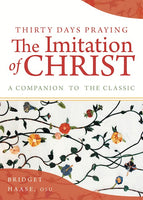 For over six centuries, The Imitation of Christ has been the most beloved book of devotional literature, second only to the Bible as a pathway to everyday holiness. 
If you have ever wondered how to dip your toes into the deep waters of this powerful classic, this book is for you. 
Sister Bridget Haase, known for her down-to-earth wisdom and generous heart, offers a thirty day companion guide to The Imitation of Christ. Designed to be used alongside the classic work or on its own, this little book includes daily excerpts, prayers, and reflection questions, along with space for drawing or journaling. Sifting through the text, Sister Bridget has uncovered golden "nuggets of spirituality" that can enrich and guide our everyday lives.  
Size:

 

5 x 7 inches
Weight:

 

3.2 ounces.
Pages:

 

96
Publication Date:

 

13 Jul 2021
Format:

 

Paperback