---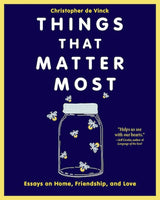 For anyone who is caught up in the hustle and bustle of life, weary and perhaps a little jaded by all that seems wrong in the world, this is a book that helps us to see again. 
In essays that are warm, evocative, and often amusing, Christopher De Vinck gives us back the eyes of a child, the fresh vision of delight, and a renewed reminder that we are surrounded with awe that we often take for granted. This is a book about living with a perpetual array of treasures: the voices of people we love, the taste of marzipan, the sounds of October geese. This is a book that reminds us to look, smell, see, touch, and listen to what is revealed to us each morning. Chris invites us to realize life as we live it, every minute.
Reflecting on the joys of family, writing, and education, Chris doesn't shy away from loneliness, disappointments and regrets. His is a voice that combines both the joys and sorrows of living, speaking with hope and acceptance, and celebrating the power of simplicity in our modern age.
S
ize:

 

6 x 7.5 inches
Pages:

 

176
Publication Date:

 

25 Oct 2022
Format:

 

Paperback