---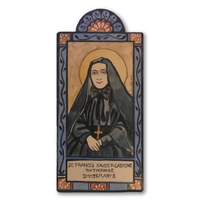 St. Frances Xavier Cabrini (1850-1917). Immigrants & Hospital Administrators. Feast Day: November 13.
Born in Italy, she was youngest of 13 children and dreamed of being a missionary in China or India. After becoming a teacher, she took religious vows and founded the Institute of Missionary Sisters of the Sacred Heart. When she asked the Pope's permission for her Order to work in China, he said, "Not to the East, but to the West." She helped poverty-stricken Italian immigrants in NY. In her lifetime she opened 67 hospitals, schools and orphanages in the US, Latin America, Europe and China.
"Fortify me with the grace of Your Holy Spirit and give Your peace to my soul that I may be free from all needless anxiety, solicitude and worry. Help me to desire always that which is is pleasing and acceptable to You so that Your will may be my will."
1 1/2" x 3 1/4"