---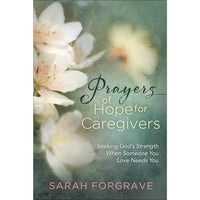 As you give care, God is caring for you Caring for someone with health needs can be emotionally, physically, and spiritually draining. Sarah Forgrave has spent considerable time, both as someone struggling with serious medical issues and as the family member of a chronically ill patient, and she understands the many challenges you face in your caregiving role. Sarah wants to share what she discovered with you—peace through prayer, solace in Scripture, and unending hope from a Heavenly Father who never stops loving you.
Each heartfelt prayer and devotion is intended to help you navigate the complex set of emotions that come with caregiving. Read it front to back or go directly to the devotion addressing how you feel at any given moment…when you need it most.
Take comfort in the truth that God knows your every need as a caregiver and is always there for you amid your toughest trials.
4.5" l x 6.4" w