---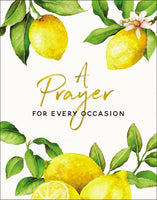 Organized by occasion and need, this prayer book offers abundant prayer examples to share with others or pray privately, and includes:
Prayers for when you're suffering
Prayers during a waiting season
Prayers for when you seek growth and transformation
Prayers for weddings, funerals, births, and loss
Prayers for graduations, praise, celebrations, and more
Including beloved prayers from Scripture as well as historical prayers, this lovely gift book teaches us how to pray with passion and joy. With four-color and high-designed interiors, this book is a great gift for just about every occasion--birthdays, Easter, Mother's Day, Christmas, a loved one grieving, a friend needing encouragement, or someone achieving a milestone.
Written for veteran pray-ers as well as for those of us who find prayer intimidating, A Prayer for Every Occasion provides an overview of the most common elements found in well-known prayers—including the words of Jesus—to help us find new confidence in our prayer lives.
Hardcover. 224 pages.