---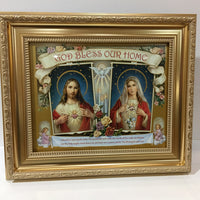 "God Bless Our Home"  Sacred Heart of Jesus and the Immaculate Heart of Mary are pictured to remind that you are blessed.  The picture is elegantly detailed with gold accents and framed in a gold frame.  Can be hung or placed on a shelf with its easel.
Total size 12" tall x 10 1/2" wide.
Wherefore I put myself within Thy Sacred Side and under the mantle of Our Lady, my Mother.  Let Thy Holy Angels stand about me and keep me in peace; and let Thy blessing be upon me.