---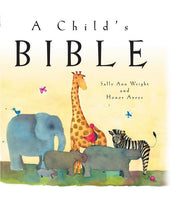 A Child's Bible is the perfect introduction to the stories that form the building blocks of faith—a wondrous collection of miracles, adventures, special friends and heroes, all bound together by God's love.
 
Raising little people of faith isn't easy! But with this beautiful book, you can help the child in your life get to know all about God, and the amazing ways God has been taking care of everyone and everything on earth since the very beginning. They will also meet Jesus, learn about the things he did on earth, about his death and resurrection, and how the disciples spread his words of love over the whole world.
 
A Child's Bible opens up the mysteries of both the Old and New Testament in language that speaks to young readers right where they are, without watering down the message of God's love. Vibrant and expressive full-color illustrations fill every page and help bring the action to life.
 
Parents, grandparents, godparents, aunts and uncles, teachers, and pastors will all want to add A Child's Bible to their bookshelves. It's a wonderful resource for homeschooling, Christian education, and Sunday school, too!